Great job! You're on your way to finalizing your merchant account, which means you're one step closer to processing credit cards, ACH bank accounts, raising funds for your mission—all while saving up to 50% on your processing fees.
In addition to collecting basic information about your organization, the primary account owner, and how you process payments, you'll also be required to upload a few documents to verify your organization. We require this information because we want to ensure all of our customers are protected from fraud.
Required Documents
Letter from the IRS verifying 501(c)3 status

Bank statements from the last two months

Copy of account owner's driver's license

Voided check or bank letter that includes routing and account numbers

Recent processing statement, if available
Letter From The IRS Verifying 501(c)3 Status
This letter typically arrives a few months after you file for official 501(c)3 nonprofit status. It verifies that your organization is a nonprofit that is registered with the federal government. For this document to be valid, it should contain your organization's name, address, EIN, along with the date your exemption was valid. Here is a sample of the letter.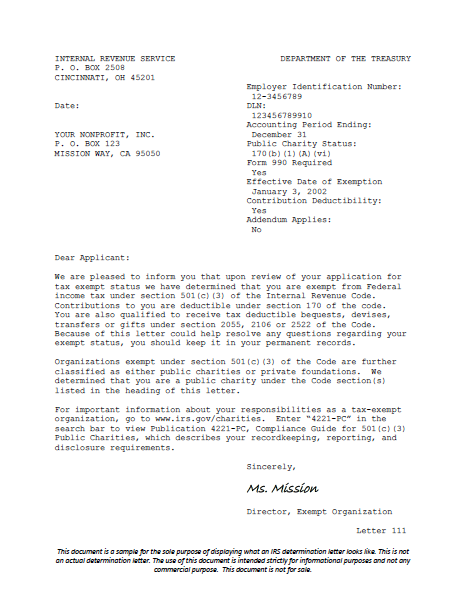 Bank Statements From The Last Two Months
"Why do you need two months of bank statements? I'm not sure I want to send that over." We get this question a lot, and we understand. You're in charge of safe guarding your organization's information, and bank statements are about as personal as it gets.
First, we securely store this information in our document vault where only authorized and approved personnel have access. Second, we use these statements to check a few things:
Your identity: We use your organization's bank statements to match up information that we've received elsewhere in your application. Scammers can be sneaky, so we want multiple ways to verify information.
Your organization's risk: When an organization opens a merchant account, they're essentially opening a new bank account. Because we're responsible for the money that passes through this account, we want to confirm that the applying organization has money in their account and hasn't overdrawn their accounts within the past 2 months. This helps us reduce our risk in accepting applications from unstable businesses. As a result, we're able to continue offering at cost processing, allowing you to save up to 50% on processing fees.
Copy Of The Account Owner's Driver's License
Your driver's license is used to verify your personal identity. Don't worry—we are not holding you personally liable for anything. That's on the organization. We simply want to ensure that someone isn't pretending to be you in order to open up a merchant account. If this happened, it could adversely affect your organization's credit score and the ability to open a merchant account in the future, so we do everything we can to protect your identity.
Voided Check Or Bank Letter
Whether you're processing credit cards or ACH, you want to get paid. We ask for a voided check or letter from your bank that includes your bank account number and routing number. We add this information to your merchant account and will automatically deposit settled funds into your bank account two days after they are processed.
Recent Processing Statement
For all new accounts, we ask for your recent processing statement. This gives us an opportunity to evaluate your current effective rate (like 2.9%) so we can show how much you'll be saving in credit card processing fees once you switch to My Well Ministry.
Some payment processing companies obscure the fees and it's not always clear what you're currently paying. We take the complexity out of a very complex subject so you can clearly see the My Well difference.
Almost there!
Now that you have a better understanding of the documents needed to complete your merchant application, you're one step closer to being a better steward of your organization's resources! That means more of your giver's dollars will go toward your mission.
If you have any additional questions, we're happy help! Simply click the chat icon in the bottom right corner of your screen, and one of our customer success team members will be in touch. 🎉