Great job! You're on your way to finalizing your platform account, which means you're one step closer to processing donations and raising funds for your mission—all while saving up to 50% on your processing fees.
In addition to collecting basic information about your organization and the primary account owner, you may also be required to upload a few documents to verify your organization. We require this information because we want to ensure all of our customers are protected from fraud.
Required Documents
Letter from the IRS verifying 501(c)3 status

Bank statements from the last two months

Articles of Incorporation, board meeting notes, or something from your website showing signer as an authorized representative

A file of your organization's logo (JPG or PNG format, 1000 x 1000 resolution)
Letter From The IRS Verifying 501(c)3 Status
This letter typically arrives a few months after you file for official 501(c)3 nonprofit status. It verifies that your organization is a nonprofit that is registered with the federal government. For this document to be valid, it should contain your organization's name, address, EIN, and the date your exemption was valid. Here is a sample of the letter.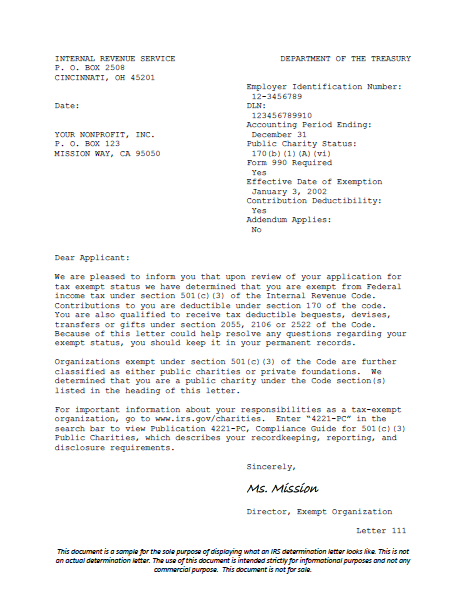 Bank Statements From The Last Two Months
"Why do you need two months of bank statements? I'm not sure I want to send that over." We get this question a lot, and we understand. You're in charge of safe guarding your organization's information, and bank statements are about as personal as it gets.
First, we securely store this information in our document vault where only authorized and approved personnel have access. Second, we use these statements to check a few things:
Your Identity: We use your organization's bank statements to match up information that we've received elsewhere in your application. Scammers can be sneaky, so we want multiple ways to verify information.
Your Organization's Risk: When an organization opens a platform account, they're essentially opening a new bank account. Because we're responsible for the money that passes through this account, we want to confirm that the applying organization has money in their account and hasn't overdrawn their accounts within the past 2 months. This helps us reduce our risk in accepting applications from unstable businesses. As a result, we're able to continue offering at-cost processing, allowing you to save up to 50% on processing fees.
Articles Of Incorporation
We want to ensure the primary owner on the account is in fact linked to your ministry. This is a way to verify the person signing the application is not using your ministry in any type of fraud and is in fact able to sign on behalf of the ministry.
Logo
This is needed to create your custom giving page. With your logo, we make your My Well giving page, both in the app and online, look and feel like your ministry. We want your givers to know they have the right account and can rest assured they are donating to the correct ministry.
Almost there!
Now that you have a better understanding of the documents needed to complete your platform application, you're one step closer to being a better steward of your organization's resources! That means more of your giver's dollars will go toward your mission.
If you have any additional questions, we're happy to help! Simply click the chat icon in the bottom right corner of your screen, and one of our customer success team members will be in touch. 🎉